À la carte options
The idea is simple: First, choose a stainless steel kitchen sink model from any collection. Then, add one or more of the options described in this section to create your custom creation. Each option is designed to add a specific function. Finally, to order your new custom sink, download its specsheet and visit one of our authorized dealers.
Installation type
All stainless steel sinks are designed for undermount installation, but you can modify this with the following options.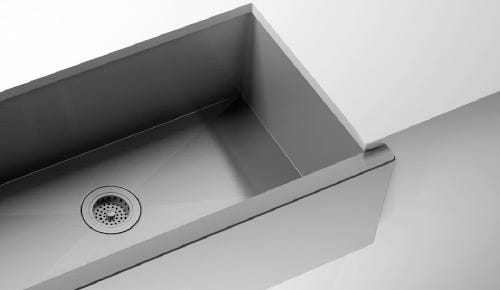 Undermount with apron flat (UAF)
A sink with a flat apron is a modern version of the traditional farmhouse sink. This option showcases all the elegance of stainless steel and truly makes your sink the centerpiece of your kitchen.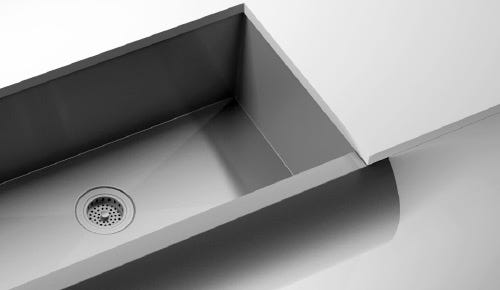 Undermount with apron curved (UAC)
To add a touch of refinement to your décor, choose a stainless steel sink with a rounded apron.. The soft curve goes perfectly with a classic or traditional décor.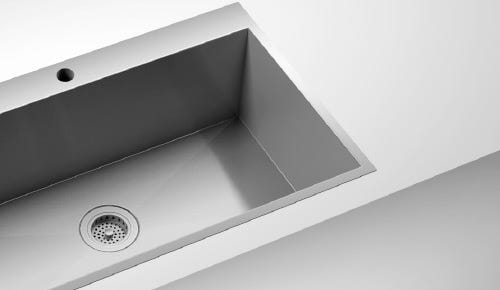 Topmount / Flushmount (TF)
Need a topmount installation for your laminate, wood, or ceramic countertop? Choose this custom option to adapt your Home Refinements stainless steel sink to all surface types. The highly precise dimensions allow to do a flushmount installation.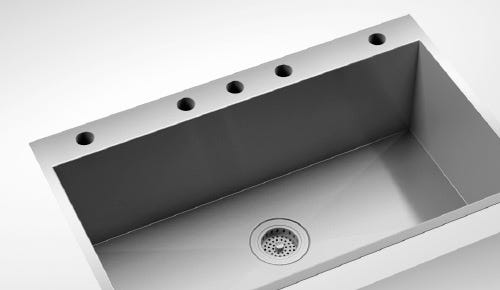 Hole(s) for faucet and accessories
Topmount / flushmount sinks are equipped with a rear platform for faucet and accessories. Up to five holes can be added.
Divider
If you opt for a double bowl stainless steel sink, the standard divider is full height and 1" wide, but you can modify this feature with the following custom options: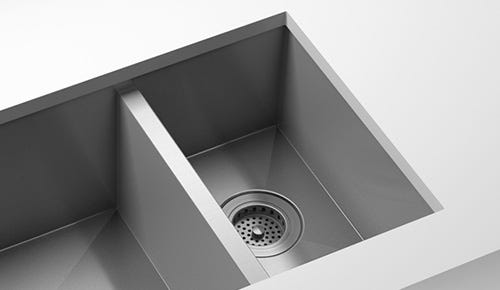 1" wide, 1" from the top of the bowl
This divider is designed to avoid spills because the water will drain into the other bowl before overflowing onto the counter.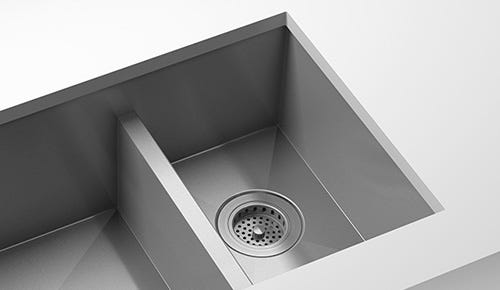 1" wide, 3" from the top of the bowl
This divider is perfect for washing large pots and pans because it allows the handles to protrude into the other bowl.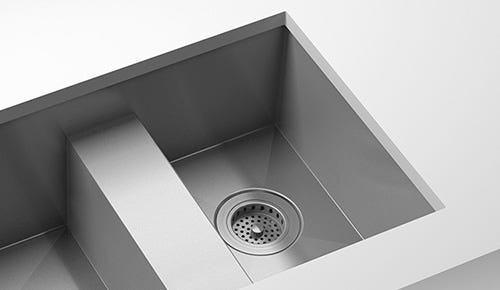 4" wide, 3" from the top of the bowl
This divider provides a resting place for hot pans or large pots being filled with water directly from the faucet. It can also be used as an additional work surface.
Built-in drainboard
The stainless steel built-in drainboard is primarily designed to dry dishes without cluttering up the counter. It can also be used as a work surface for prepping and cleaning. The ribbed surface provides greater stability when placing items on the work plan. The drainboard comes in three custom widths: 12", 18", and 24" and can be added on either or both sides of the sink.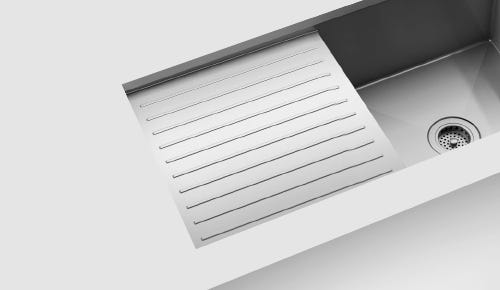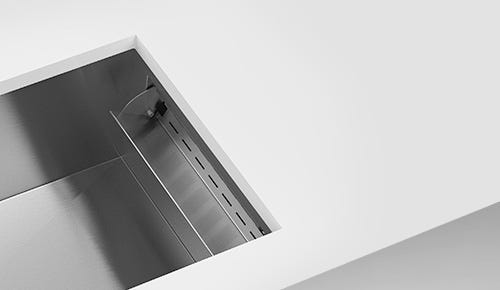 Built-in drawer
A stainless steel built-in drawer is the perfect place for storing everyday cleaning supplies. Brushes and cleaning pads stay out of sight yet within reach. Moreover, thanks to its unique design, water drains easily so it does not need any particular plumbing fitting. The tilt-out drawer can be removed and put in the dishwasher for easy cleaning.
Position of the drain(s)
This custom option gives you a larger flat surface area on the bottom of the sink, which is ideal for putting down pots without blocking the drain. It also modifies the fittings position so you can maximize cabinet storage space. The default drain position on all Home Refinements sinks is the center rear of the bowl, but five additional custom options are available.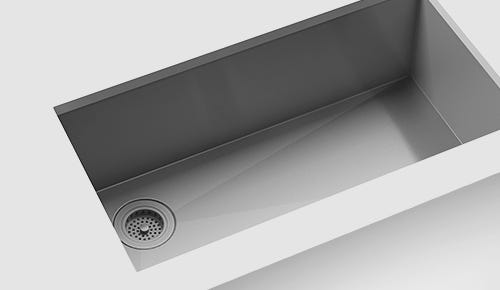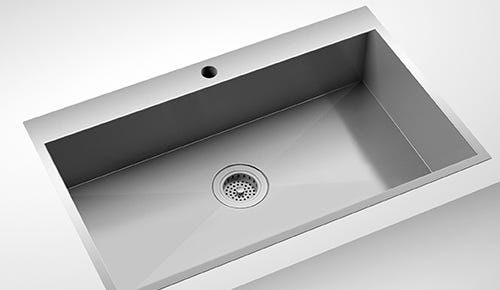 ADA compliance
ADA compliant sinks are designed to make their use easier, more practical and comfortable for people with disabilities or limited mobility. By choosing this custom option, your bowl(s) depth becomes 5.5", leaving enough space underneath to allow for knee clearance.
---
To begin, choose a stainless steel sink model from any collection
Already familiar with the À la Carte program and the online 3D configurator?
---