It's time to take it outside
At Home Refinements by Julien, we have been under the spell of stainless steel since day one, and so we are experts at putting it to new uses, like creating outdoor kitchens that offer a brand new way to connect with nature as well as friends and family.
Outdoor Kitchens
2 collections Distinction and Essence
Home Refinements Outdoor Kitchens are divided in two distinct collections. Experience the ultimate luxury of DISTINCTION collection or get charmed by ESSENCE functionality and simplicity.
Distinction
We believe your personality should shine through your entire home, even outdoors. That's why we put so much effort into designing the perfect outdoor kitchen. Personalize your outdoor living space with our selection of self-standing cabinets or create a totally different look with the built-in inserts.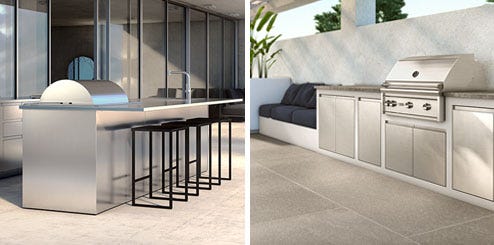 ---
Unparalleled Refinement
Choosing DISTINCTION outdoor kitchens is to experience the ultimate sophistication. You will be instantly charmed by its gorgeous design and its unique yet distinguished character. Select the LINE door model for its straight lines and clean look, or go for the slim and delicate handles of the PURE door model.
A World of Possibilities
Our modular approach offers many ways to build the perfect kitchen tailored to your outdoor living space. The collection is declined in self-standing cabinets and built-in inserts of multiple dimensions, requirements and needs, for a maximum of flexibility of your outdoor kitchen layout. Find your perfect balance between functionnality, ambience and personality among the countless options.
Impervious to Humidity
Stainless Steel is our go-to material; not only is it beautiful, it is impervious to humidity, saline environment and the harsh rays of the sun. DISTINCTION outdoor kitchen cabinets are equipped with weather resistant rubber seals to encounter any of Mother Nature hazards.
---
Essence
ESSENCE outdoor kitchens were born out of a desire to focus on the simple pleasure of cooking. We wondered: what makes up the heart of the kitchen? Our answer: To keep only the essential components and create modules with a clean design. The result is a simple and enjoyable experience that gives you the space you need to devote yourself to your culinary creations.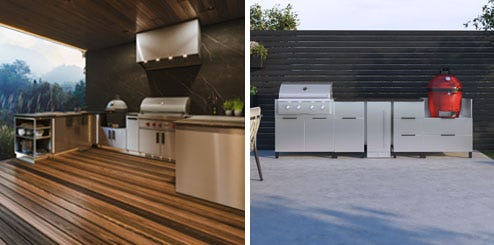 ---
A thoughful concept
More than 20 cabinets and modules are available for countless configurations to meet your different needs. Back your outdoor kitchen to a wall or fence or opt for an "L" or galley configuration. Since finishing is ensured on all sides, the module back is as elegant as the front.
Simplifed Installation
We combined design and engineering to optimize the construction of the freestanding cabinets. They are delivered to you fully assembled. Installation is quick and easy, on a concrete slab or an existing wood deck.
Attention to detail
Details make all the difference. That's the case with ESSENCE cabinets, which all come with adjustable legs for even more flexibility. The shock-absorbing drawer hardware ensures smooth handling, and the sliding tank base is as convenient as it is easy to access.
---
Accessories
Home Refinements also offers a range of high-quality accessories to organize your cabinets and drawers. Handcrafted from the same stainless steel as the outdoor kitchen cabinets, these products are practical and durable.