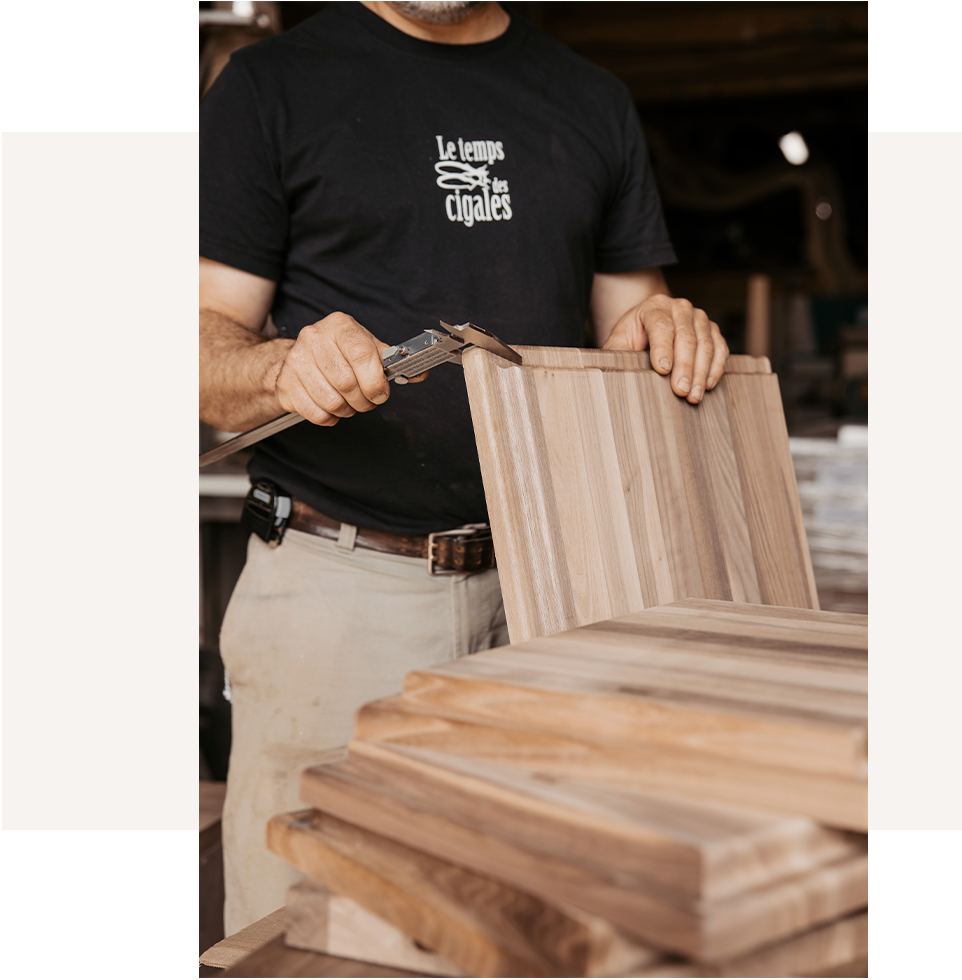 October 20, 2022
Allowing customers to experience the cicada season all year-round is the mission of the Quebec cabinetmaking workshop, Le Temps des Cigales, partner and supplier of wood accessories for Home Refinements by Julien for more than 6 years. This mission resonates well with our brand, specialized in residential kitchens.
" Cicadas take time to feast, and live in the moment ..."
Myriam Foy, co-owner of Le Temps des Cigales
This series of articles will take you behind the scenes of a special partnership, values that are dear to Home Refinements, and passion behind each of our designs.
Wood and steel, not so different materials
The common feature between wood and steel is that they are both 100% recyclable. Although they undergo different processes, they both wear the hat of being eco-responsible material. So, what could be better than having a mixture of these two materials in one product?
This is the idea that came to Home Refinements' mind when it set out to find a partner company in the woodworking industry 6 years ago. Then came Le Temps des Cigales, operating since 2000 and Run by Olivier Doray and Myriam Foy, a reputable artisan workshop that shares the same values and has proven the quality of its process, selection, and knowledge of materials; thus creating the perfect alchemy.
Together towards excellence
The focus on excellence has been carried out for over 75 years in our Julien factory, where every step of the manufacturing process of our stainless-steel sinks is essential, where quality control is omnipresent, and where we manually and carefully assemble the sinks as well as their accessories, in order to guarantee complete satisfaction to each one of our customers. It was naturally important to us to make sure that attention was given to all of our products' components.
It is a happy coincidence that Le Temps des Cigales also put a particular attention to their meticulousness and importance they give to the quality of their products. The workshop has managed over time to create a place for itself in the gastronomy industry with big names such as Josée DiStasio, Laurent Godbout, Christian Bégin or Stefano Faita and then in the manufacturing industry as well.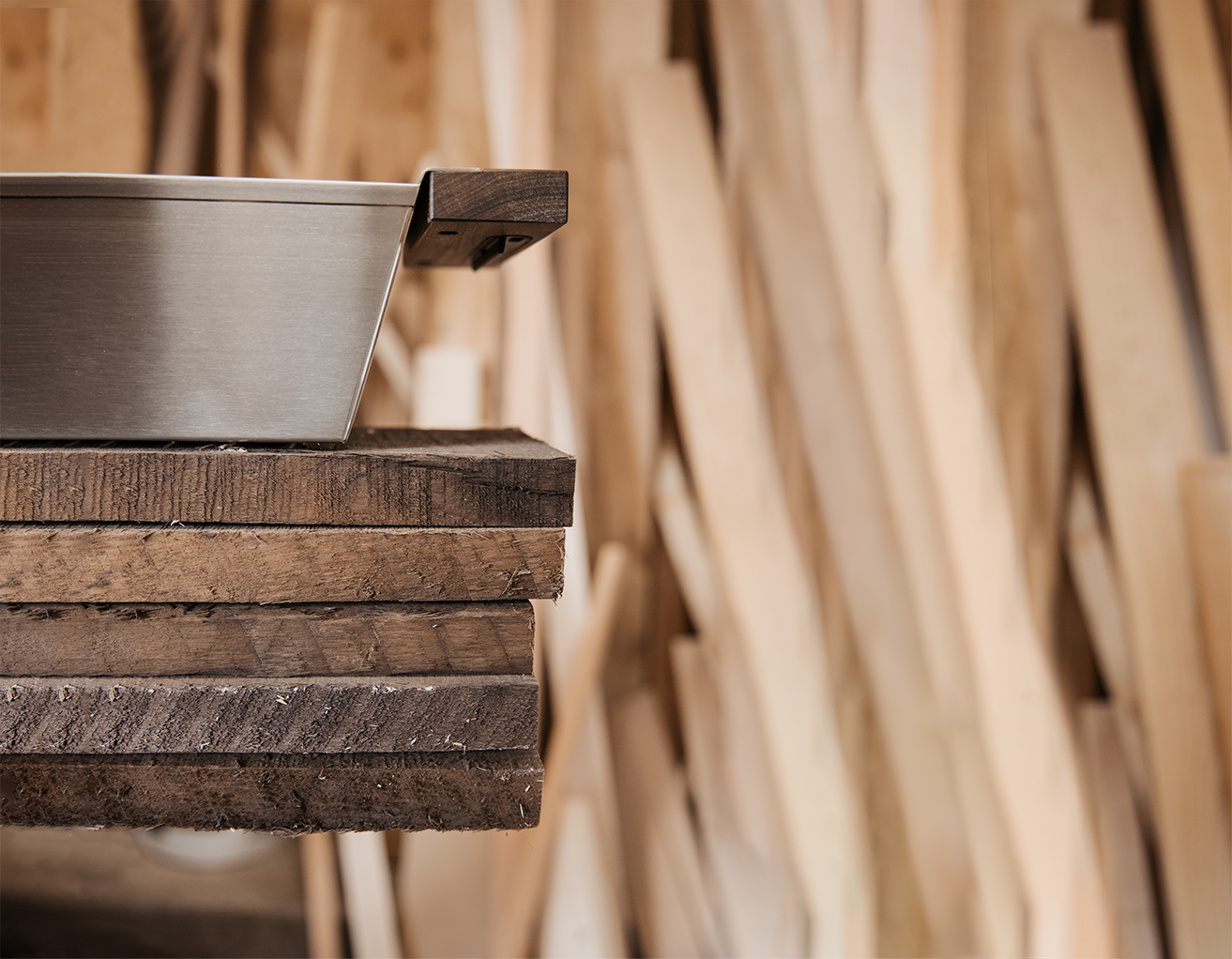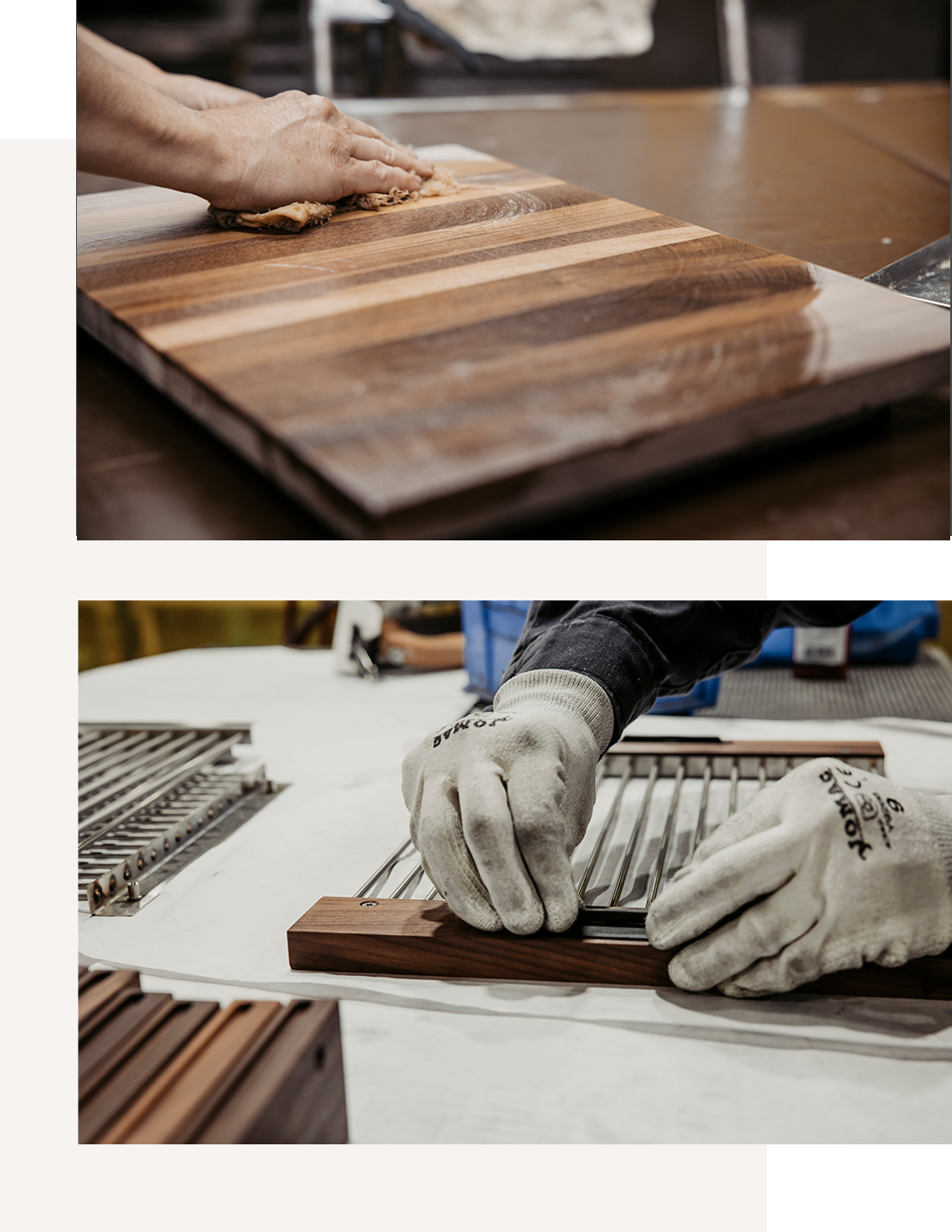 " What is very important to me is quality. Each step of the production process is essential and must be done with care so that the finished product has impeccable quality and durability. "
Olivier Doray, co-owner of Le Temps des Cigales
Quality control is undertaken at each step, starting with the gluing of the wood, a step that allows us to obtain a wooden board of the desired size and thickness, which if poorly executed, could cause the wood to delaminate over time. Then the machining stage allows the board to be in perfect dimension. This step is even more critical when pieces of wood must be combined with other elements to finally form a product that integrates itself into a structure with very specific dimensions, like our SmartStation sinks for example. Then, the quality of the sanding stage directly determines the quality of the finish and the durability of the product. Sanding allows for a smooth working surface, without porosity, and is therefore necessary for the good adherence of the wax and other finishing products. The application of the wax then determines the quality, aesthetics, and durability of its protection. Finally, the packaging guarantees the preservation of the product and its safety during its transport to our doors.
Continuous innovation rooted in tradition
The shift of Home Refinements towards automation and technological evolution combined with 75 years of steel expertise opens the door to continuous innovation that has earned the company an enviable reputation on the world market.
However regardless of this drive to innovate, we have remained committed to local manufacturing, eco-responsibility, and respect for the material used, in order to capitalize on the advantages, the beauty, and the exceptional durability of the stainless steel. With this in mind, we develop our products with our own industrial processes and in our own premises in Quebec City.
Over the years, Le Temps des Cigales has also been able to offer an optimized production structure thanks to its solid business partnerships. With a numerical control shaping machine, Mathieu Gauvin, one of the oldest employees, programs the machine internally, thus allowing for perfect adaptation to the needs of production while maintaining respect for the material, a rare possibility in the industry.
At the heart of the Temps des Cigales workshop, Myriam will also proudly show you how they use their own wax for finishing, a wax whose recipe was developed by the workshop itself. Not only this wax will allow better respect of the environment, but will also give a more satin finish to the wood and a greater durability of the materials - a vegetable wax, without mineral oil, locally produced!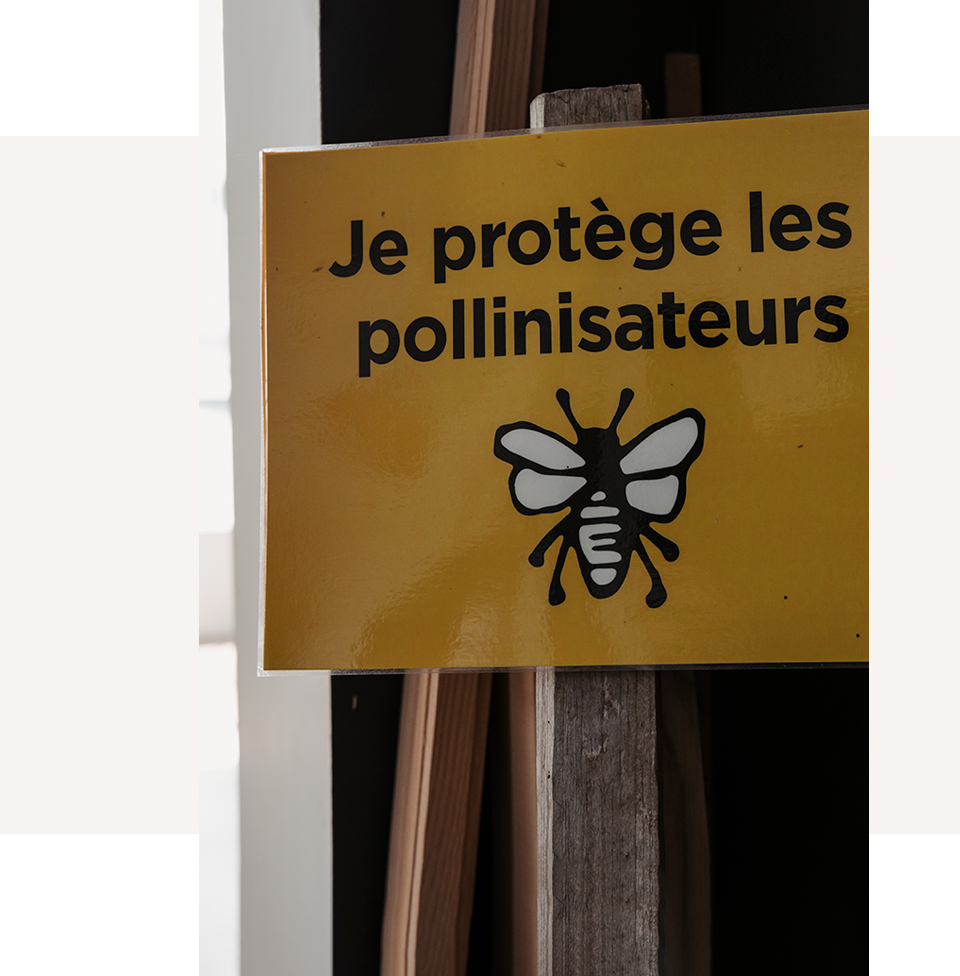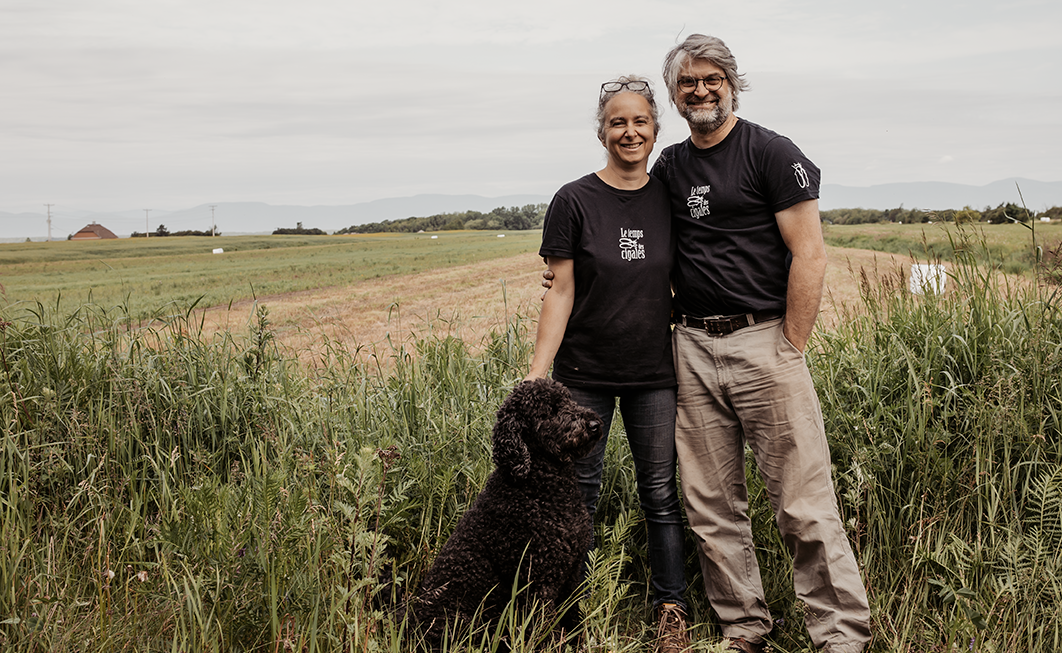 " The human being is the heart of our workshop; it is a primordial element for us. We are a family. "
Myriam Foy
Being an entrepreneurial model
Being a model of success and entrepreneurial innovation, while keeping one's heart in craftsmanship and one's feet in eco-responsibility, is no easy task. This is no small challenge for two companies that want to guarantee excellence as well as a pleasant and rewarding work environment for their employees. Without the appreciation of human capital, none of this would be possible.
The human being that Myriam is talking about, refers to the collaborators, suppliers and all the customers who come into contact with the workshop. Giving them the respect and time they deserve is the least we can do for them. Sometimes being involved for them is as simple as employing a person partially or fully, and thus contributing to the employability of local people. They also do not hesitate to highlight the initiatives of other artisans who want to make a difference in their environment. This appreciation of the human being has been in Julien brands' DNA for more than 75 years, and that's what makes all the difference for us.
In the next article, we will tell you more about our wood species, how each has its own particularity and brings a special touch to your accessories and your kitchen.

Did you like this article? Share it and subscribe to our newsletter to be notified of the next publication!