Exclusive Distinction
At Home Refinements, we believe your kitchen should reflect your lifestyle. It's the fundamental principle that guides us as we develop our sinks, faucets, and accessories. Our ultimate goal is to create synergy between work stations and users.
SINKS
Our products combine elegance, practicality, and design. Since every customer has a unique personality, and every décor has its own authenticity, we offer exclusive distinction.
Stainless steel sinks
Durable and versatile, stainless steel is the material of choice for the kitchen. At Home Refinements by Julien, we master the art of stainless steel, starting with the workhorse of the kitchen, your sink. Find out which collection best suits your style and needs.
Heritage
75-year strong know-how
Heritage is the sum of our flagships collections that built our reputation and history. Classic model was created for the professional kitchens, thanks to its rounded corners (29 mm) that are now the reference in the catering industry. Then comes the UrbanEdge sinks, perfect for a modern and minimalist décor with its sleek, right angles. Heritage is completed by the J7 sink models, a perfect combination of our classic models with slightly rounded corners of 7 mm for an easy-to-clean, yet effortless contemporary look.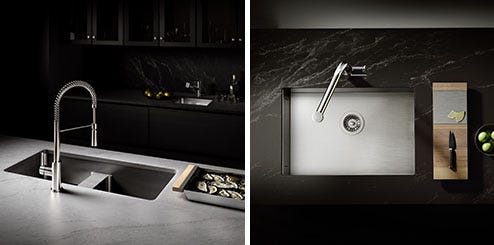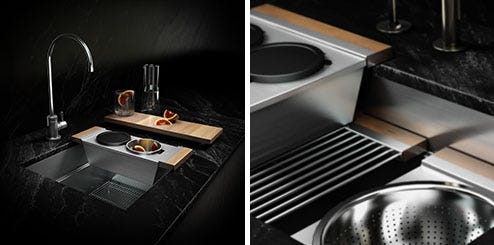 SmartStation
Function, form and finesse
Just because it's beautiful, doesn't mean it's not ready to work. With the ultimate accessory selection, sliding from side to side of the bowl on two levels, it centralized all prepping and cleaning tasks leading to great culinary feats.
SocialCorner
Meet you at the sink
There are many ways to optimize your kitchen, and the SocialCorner sink is one of them. By moving the sink to one corner of the island, it makes two sides easily accessible, optimizes works space and facilitates circulation between work zones.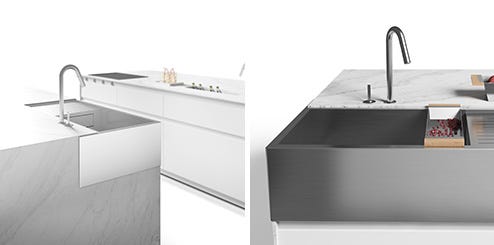 FIRECLAY SINKS
Only the finest materials are selected and carefully mixed to produce fireclay sinks. The rigorous process which each sink undergoes ensures its dimensional stability and a perfectly smooth, non-porous finish. Fireclay sinks are where high-quality materials meet timeless character.
Fira
Ageless, peerless, fireclay
Perfectly smooth and strong. Our firing process produces top-quality sinks that are simply beautiful to behold. With their integrated accessory ledge, the Fira sinks are true workstations whose undeniable functionality is only equalled by the refinement of the accessory line that complements them.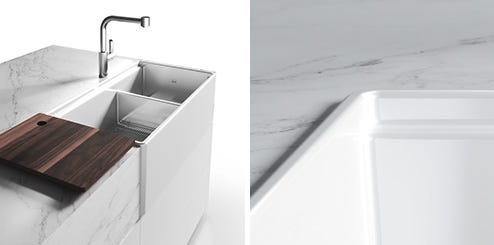 FAUCETS
Whether you are looking for a professional or pull-out faucet, we have just what you need. Simple, precise design that delivers optimal performance worthy of the most seasoned chefs.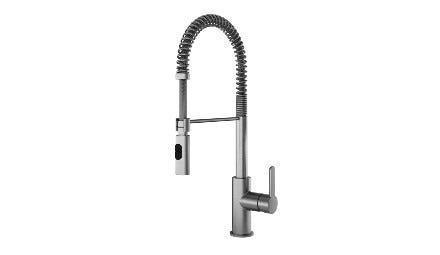 Professionals Faucets
Inspired by commercial kitchens, the professional collection's faucets are designed to deliver optimal performance worthy of the most seasoned chefs.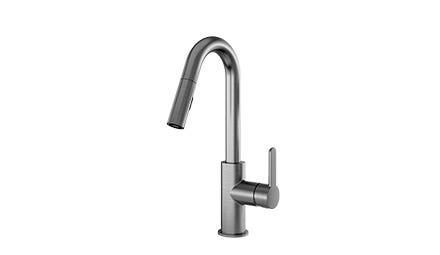 Pull-out Faucets
Our pull-out faucets offer great flexibility and are available in various configurations for kitchen and bar sinks. Their pull-out spray heads make preparing food and cleaning the sink a snap.
ACCESSORIES
There are so many ways of complementing your Home Refinements sink. Drains, grids, colanders, cutting boards, to name just a few. All of them look great, and work like a dream.